About Us | Fitzpatrick Roots | Contact Us | Map & Aiken area | Site Contents



We are located 3 hours away from Atlanta, GA., and Myrtle Beach, SC; and from Asheville and Charlotte, N.C. We are a little over 2.25 hours from Greenville, Charleston, and Savannah, GA.

We are about 1 hr. southwest of Columbia, S.C. on I-20. We are about 10-15 minutes off the highway through town from I-20.

Aiken is a small, historic city that boasts every horse discipline imaginable, it is indeed "the town the horses built." When the "Winter Colony" folks discovered the year-round, temperate climate they came and brought their horses. Aiken usually has a population of about 25,000 and it swells in the winter/spring to about 45,000. Aiken hosts the annual Triple Crown races and circuit Steeplechase races, and is home to The Thoroughbred Hall of Fame, Hopeland Gardens and a wealth of unique southern, antique shops.

Aiken has the nation's only 2,000 acre forest preserve in Hitchcock Woods which begins on the edge of downtown. It is larger than Central Park in NYC. It is restricted to horses, people walking or hiking but no motorized vehicles are allowed. Exept for one day during the annual Horse Show in the Woods.
Nowhere else will you find downtown streets that are still dirt and clay to accommodate horses rather than cars, and where you can see a carriage with four-in-hand or phaeton or pony carts pass by. In fact our long avenues and streets were designed with alleys and round-abouts for turning large carriages drawn by as many as four horses and for multiple parades. This is truly an equine playground. Thus Aiken was, and is, very unique. It is known as the "Saratoga of the South." It is a heritage and legacy we enjoy to this day.

Aiken has reclaimed its title of the polo center of the world, beating out Palm Beach and Argentina with more than 50 of the world's top 8 and 10 goal players living & training here . Aiken hosts the most polo matches all year long with upwards of 25 professional fields, and has the oldest polo field in continuous use in the world, Whitney Field. Matches are held every day and twice on Sunday. If it has to do with horses, Aiken has it. With 5 hunt clubs to choose from in foxhunting, flat, harness and steeplechase racing, to barrel racing, Olympic training, 3-day eventing, stadium jumping, combined driving, rodeo, gymkana, dressage, etc., you name it, Aiken has a horse park to host it.

Aiken's downtown area is flourishing with 50 unique shops, 20 restaurants, winery, artist's parlors, antique stores, restored antebellum hotels and homes. There is so much to do here. Recently Aiken unveiled the project HorsePlay there are 32 life-size horses commissioned by the town in a juried show and 200 artists applied. The 32 final horses are displayed all around town and were auctioned off the night before the Steeplechase Ball. They are placed all around town for visiting. Aiken is a fun place to visit and to live if you enjoy the outdoors, dogs, horses, and a healthy lifestyle.
For a quick link to the Aiken Chamber to see the awards Aiken has garnered as: the best Boomer town, All American city, best value college for the dollar, best K-12 prep school, best place to retire named in a variety of publications.


Please see below for comments and reviews of places to stay provided by our puppy families who have stayed in Aiken.
Aiken: The Definition of South Charm.

Season after season Aiken's natural beauty and friendly atmosphere attract thousands to its thriving downtown for shopping, dining and sightseeing. If you're looking for a place that offers all the amenities you'll ever need, a place that offers a perfect balance between the charm and grace of yesteryear and the promise of tomorrow, you will find it in Aiken, South Carolina.

With its rich heritage, impeccable beauty, cosmopolitan flair, and unparalleled quality of life, Aiken is the ideal place to come and spend a day, a weekend or a week or a lifetime. Aiken is perfect for all ages and for all seasons. It offers distinctiveness often unheard of in today's life, were affordable housing, award-winning schools, diverse recreational opportunities and a progressive approach to business go hand-in-hand to offer something for almost every lifestyle.

One of Aiken's greatest assets is its people. Individuals from diverse backgrounds who are dedicated to the overall well-being of the area.

Whether you plan to come and visit or to live here, you will find that Aiken exceeds your expectations and offers more than you ever imagined.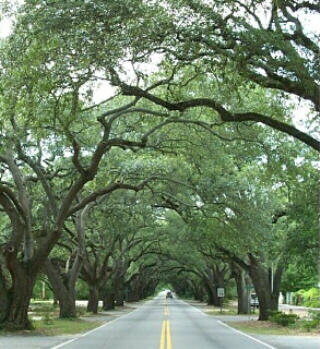 South Boundary, its the prettiest drive along the old oak lined street. Lots of history and its so peaceful and soothing to drive this street.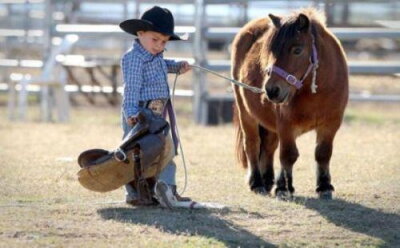 Do you remember the time you saddled your first pony? We all remember our first horse, so magical.
We start them young, toddlers sometimes learn to ride before they can really walk.
PeeWee Polo is terrific to watch as the older horses take great care of their pint-size charges. They will walk over to the ball and tap it with their foot so the kids can take a swing at it with longer Pee Wee Polo mallets.

These are photos of the Rose Hill Estate, restored and renovated by the Meuller family. These photos are from their home and estate taken by Eva and Steven Mueller and they welcome visitors.
Their accommodations have received rave reviews from some of our puppy families who have stayed there. They have two Winter Colony cottages that are also available when you call ahead to make reservations. Our families tell us they were treated like royalty upon their visit and will definitely come back again. It is a fabulous place to stay with home-cooked full and luxurious American and International breakfasts.
Aiken Area Accommodations
These are places that were recommended by folks who have previously picked up puppies from us. Some are a deluxe stay, some mid-priced, some economy priced. But there is something for everyone here. It is part of the experience to enjoy coming to Aiken and visiting and having a nice place to stay that will accept dogs.
I have not included any places that do not offer a Pet Policy or that do not accept dogs. Though people have been known to sneak dogs in many places here in town.
Carriage House Inn 139 Laurens St. NW, downtown 803-644-5888
www.aikencarriagehouse.com They have a guest suite for people with dogs that is private with a garden courtyard, it has a king bedroom, full kitchen, fully furnished and serves a full breakfast. They are only about $100 per night with an additional $25 pet fee. This is a wonderful place and always gets rave reviews. In 2009 it was named one of National Geographics "Best Places in the World" to stay. Walk to everything downtown.

Rose Hill Estate 221 GreenvilleSt. NW 803-648-1181
www.rosehillestate.com A two block 4 minute walk from downtown shops. This is a historical estate with two private Winter Colony cottages with outside courtyards. They serve a full, lavish breakfast and are very accommodating. Their week night rates run $115 - 150 and up; weekend rates are $150 - 225 depending on room sizes. Wonderful place, elegant and private, exquisite food.
Aiken Hotel downtown corner of Laurens St. and RichlandAve. 803-648-4265
This is an older, still being renovated historical inn, main building with terrific tavern and restaurant on premises. They have a motel courtyard section for folks with dogs that is behind the main inn building. The motel is an old double decker and the parking lot is the 'courtyard.' There is no extra fee for dogs. Their rates run $59 - 69 and serve a continental breakfast. Good value. (*We have had 3 - 4 families stay there and they were unfortunately not happy. They asked to be moved into the main building, which does not accept pets, and two checked out to go to another place.) I am just being brutally honest, we want folks to have an enjoyable mini-vacation when they come to pick up their puppy. So if you have any questions please do not hesitate to pick up the phone and call me.
Willcox Inn 100 Colleton Ave. just outside of downtown, a historical site. 803-648-1898 toll free 1-877-648-2200
www.thewillcox.com This is where Winston Churchill and Teddy Roosevelt have stayed when in town. Luxurious and antique, they have continental breakfast, Sundays are a full breakfast. They do have a new dining room for late afternoon and evening dinner. They do accept pets. Room rates run from $175 to 500 per night for different suites. Evenings usually have special events in the foyer, jazz bands and entertainment, etc.

Then we have the usual mid-priced to economy places that do allow dogs.
Comfort Suites 3608 Richland Ave West west of town 5 miles 803-641-1100 Basic services, $10 pet fee non-refundable room rates $60 and up
Econo Lodge 3560 Richland Ave West, west of town also, 803-648-3968 or Toll free 800-528-1234 $10 pet fee non-refundable room rates $48 and up
Holiday Inn Express 1350 Whiskey Rd - Rt 19 803-648-0999 toll free 800-465-4329 Again basic service, nothing fancy $45 pet fee non-refundable rates $78 and up
Sleep Inn Whiskey Rd behind CVS 803-644-9900 toll free 800-627-5337 No official pet policy, as long as no disturbances, etc. room rates $57 - 110 and up
For more information on where to stay and what to see and do in Aiken, please visit both:
http://www.tbredcountry.org/visitors_guide.htm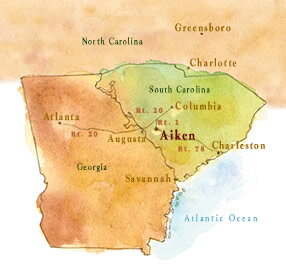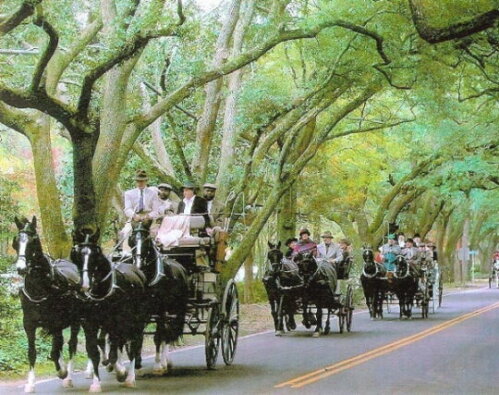 Sunday driving in Aiken: Aiken Driving Club, 2003
photo by Ginny Southwick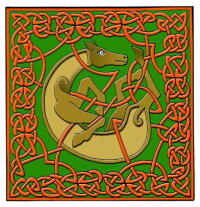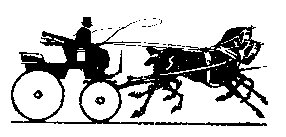 Every spring and fall Aiken is host to the Steeplechase races! Every March-April Aiken is host to the Triple Crown races. They are trials races with new 2 year olds who are prepping for major races and for the Kentucky Derby. First time seen in public for many of the horses who are shining stars. A string of weekends that include the Triple Crown Trials, the Steeplechase, Trotters races and the last weekend is quality exhibition 6 goal polo.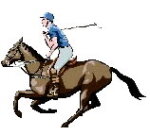 Please note that we do not give specific directions here. When people make appointments and I have talked to them in depth, only then will I email specific directions to get to the house and farm. We are glad to make private appointments for everyone.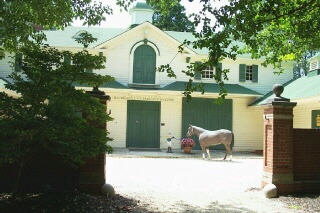 Aiken is home to the Thoroughbred Racing Hall of Fame.

About Us | Fitzpatrick Roots | Contact Us | Map & Aiken area | Site Contents